Welcome to the awarding winning Compasses Inn at Littley Green.

Friends of The Compasses Charity Takeaway Service 3rd-4th July 2020
We have been doing our charity takeaway service at The Whitbreads Barn since 15th May with great success. So far we have raised over £7,500 in 7 weeks!  THIS IS THE FINAL WEEK!!!
Please see below for this week's menu and charity: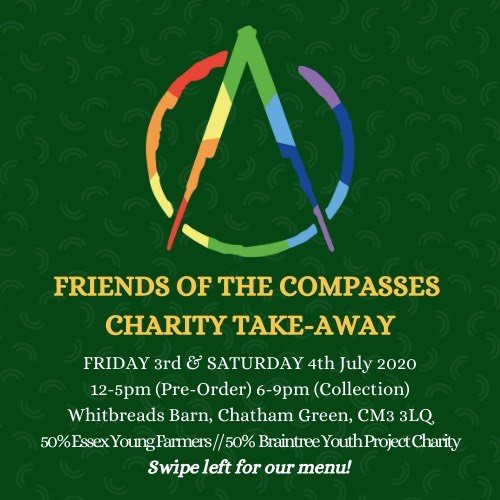 The Friends of The Compasses charity takeaway service continues from the Whitbreads Barn on Friday and Saturday evenings between 6pm & 9pm. We will provide a choice of four real ales to takeaway in 4 pint measures (bring your own container – an old milk carton will work) and some of your favourite meals. As we are all furloughed, we are volunteering and all profits will go to charity – half to Essex Young Farmers and half to a weekly changing charity.
Nominated charity 3rd & 4th July – Braintree Youth Project Centre
Each week, one of our takeaway volunteers nominates a charity; this week is Gus's turn.  This is his story:
Menu for 3rd & 4th July 2020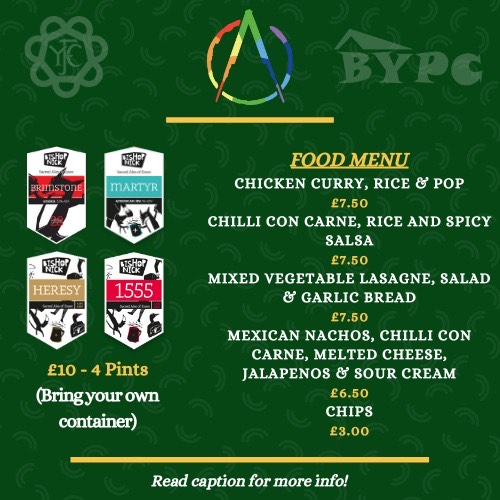 Bishop Nick Brewery
This week we are also showcasing real ales from Bishop Nick Brewery in Braintree. We have 4 beers coming from them:
Brimstone (3.9%) – Amber
Heresy (4.0%) – Gold
1555 (4.3%) – Amber
Martyr (5.0%) – Deep Gold
How it works:
WhatsApp, message or WiFi call Joss on 07771860950 to pre-order from 12 on the day you would like the takeaway from the menu on Facebook, Instagram or our website. Remember to include the following: name, telephone number, ideal collection time, food order and drinks. (Phone signal is poor at the Whitbreads Barn).
We will ring you back to confirm your order, collection time (between 6 & 9) and to take payment over the phone (we will not be accepting cash).
On arrival please stay in your car until approached by a volunteer. They will take your name and ask you to open your boot.  If you have pre-ordered real ale, remember your container and hand it to the volunteer.
Your take away will be placed in your boot, you can then get out, take your food and shut your boot.
We look forward to hearing from you and seeing you from a distance. Stay safe!
Joss and The Friends of The Compasses Voluntary Group
COMPASSES' NOMINATED CHARITY 2020
The Compasses' nominated charity for 2020 is Cancer Research UK.  Joss Ridley, the landlord, has chosen Cancer Research UK as one of his best friends (Dan) has been living with Stage IV bowel cancer for the last two years.  There will be numerous events at the pub, including a weekly quiz night on Thursday evenings whilst we're at The Whitbreads Barn, to help reach our target of £10,000.  Joss is also racing the Transcontinental Bikepacking Race in July in order to help raise awareness.  We would be very grateful if you are able to support us in any way, and if you would like to sponsor Joss on his big bike ride and read about Dan's journey, please click on the link below:
Cancer Research UK Sponsorship Page
If you would like to know more about the Transcontinental Race, please click on the link below:
If you would like to read about some of Joss's adventures in the last couple of years, please click on the link below:
REAL ALE
Being members of the sixth generation of the Ridley brewing family we pride ourselves on the quality of our real ale.
There are always two classic Essex bitters available – usually Bishop Nick Ridley's Rite and Crouch Vale Essex Boys Best – a dark ale, a golden ale and one other guest ale. See the blackboard below for our latest offerings.
Last updated: 20/03/2020