Welcome to the awarding winning Compasses Inn at Littley Green.
COVID-19 Update – November 2020
We are currently closed for lockdown 2 and not offering a takeaway service. Hopefully see you in December!
CURRENT COVID 19 RULES AT THE COMPASSES (16/10/2020)
As I'm sure you're aware, Essex is going into Tier 2 lockdown from Saturday 17th October. So what does this mean about coming to the pub?
The following rules have not changed:
1. Rule of six
2. Wearing a face covering (if you are able to) whilst moving around the pub
3. Social distancing (1 metre plus)
4. Signing in using the NHS app or giving your name to a member of staff
5. Table Service only
6. Pub shuts at 10pm
Tier 2 brings in one new important rule:
You are only allowed to sit with people inside the pub who are from your own household or who are part of your support bubble (for single people or single parents). You are allowed to meet up in groups from multiple households (up to 6 people) outside however. The marquee currently counts as inside space.
We have removed the sides of the marquee to make it an official outside space. It means you will be able to meet up with friends in there, but obviously it will be a little colder until the table top heaters arrive towards the end of November.
Given that our trade is likely to suffer as a result of this new rule, we have reluctantly decided to add a small amount to our food prices which will also cover the additional costs involved with offering table service.
We have some very challenging months ahead in the pub, and we appreciate hugely how much you have all supported us through these recent changes. We are naturally worried about the future viability of the pub and the jobs of the people who work here, but we know that with your continued support and loyalty we will manage to ride out the storm.
TABLE SERVICE AT THE COMPASSES
From Thursday 24th September, we will be required by law to offer only table service at the pub.
So what does this mean for you coming to the pub? The following apply to both drinkers and diners – we have never prioritised one group over another and nothing will change now – you are just as welcome to sit at a table drinking as you are dining.
No more queuing or service at the bar.
Please enter the pub at the front of the building and wait to be allocated a table by a member of staff. Please be patient, there will be a few teething issues as we all get used to the new way of working.
Food and drink menus will be left on the tables (laminated so that they can be sanitised between uses). Our current real ales and ciders, and food specials will be on our website, social media and will also be known to the member of staff serving you – so please avoid walking up to the chalkboards.
You will be given a tab and asked to pay in one go when you leave. We prefer card payments but will also take cash. Please make a member of staff aware when you wish to pay rather than coming up to the bar.
As I'm sure you can appreciate, this is a new way of working for us, so it may take a little time to iron out all the wrinkles. Please remain patient and respectful to staff and other customers at all times – we will get to you!
BEER & CIDER MENUS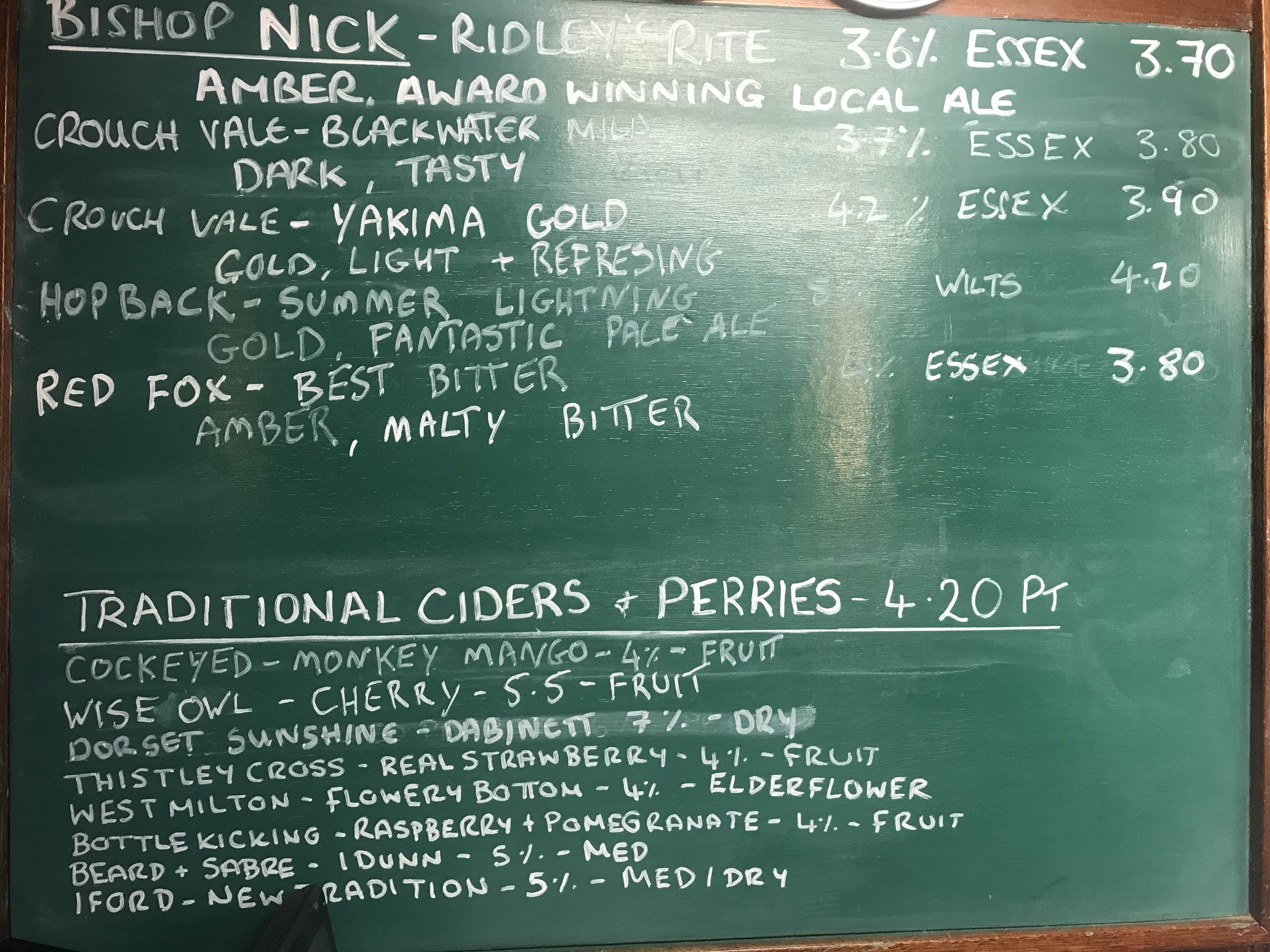 Last updated 13/10/2020
Breakast at The Compasses!
Starting 1st August 2020!
As a result of the improved back of house services, we have decided to alter our opening hours and food times, and to offer breakfast at the weekends between 08.30 & 11.00.
Monday 12.00-15.00 & 17.00-23.30 (Food 12.00-14.30 & 18.00-21.00)
Tuesday 12.00-15.00 & 17.00-23.30 (Food 12.00-14.30 & 18.00-21.00)
Wednesday 12.00-15.00 & 17.00-23.30 (Food 12.00-14.30 & 18.00-21.00)
Thursday 12.00-23.30 (Food 12.00-14.30 & 18.00-21.00)
Friday 12.00-23.30 (Food 12.00-14.30 & 17.30-21.00)
Saturday 08.30-23.30 (Food 08.30-11.00 & 12.00-21.00)
Sunday 08.30-23.30 (Food 08.30-11.00 & 12.00-20.30)
Friends of The Compasses Charity Takeaway Service
The Charity Takeaway Service has now finished. We raised an incredible £9,000 over 8 weekends for the following charities:
Essex Young Farmers – our hosts
Cancer Research UK – Joss
Prostate Cancer UK – Paul
St Elizabeth Centre – Lizzy
The Trussell Trust – Audrey
Motor Neurone Disease Association – Courtney
Celia Hammond Animal Trust – Sue
Braintree Youth Project Charity – Gus
Thank you everyone for your support, it was a very special thing to be part of. We will continue to do takeaways from the pub when we reopen on Friday 24th July.
Joss and The Friends of The Compasses Voluntary Group
COMPASSES' NOMINATED CHARITY 2020
The Compasses' nominated charity for 2020 is Cancer Research UK. Joss Ridley, the landlord, has chosen Cancer Research UK as one of his best friends (Dan) has been living with Stage IV bowel cancer for the last two years. There will be numerous events at the pub, including a weekly quiz night on Thursday evenings whilst we're at The Whitbreads Barn, to help reach our target of £10,000. Joss is also racing the Transcontinental Bikepacking Race in July in order to help raise awareness. We would be very grateful if you are able to support us in any way, and if you would like to sponsor Joss on his big bike ride and read about Dan's journey, please click on the link below:
Cancer Research UK Sponsorship Page
If you would like to know more about the Transcontinental Race, please click on the link below:
If you would like to read about some of Joss's adventures in the last couple of years, please click on the link below:
REAL ALE
Being members of the sixth generation of the Ridley brewing family we pride ourselves on the quality of our real ale.
There are always two classic Essex bitters available – usually Bishop Nick Ridley's Rite and Crouch Vale Essex Boys Best – a dark ale, a golden ale and one other guest ale. See the blackboard below for our latest offerings.
Last updated: 20/03/2020