Welcome to the awarding winning Compasses Inn at Littley Green. We are open as normal and serving food and drink every day of the week. Please see below for our opening and food times.
Covid Rules At The Compasses
Hi everyone, we try to keep Covid Rules to a minimum, but please be aware of the following, designed to keep staff at the pub safe and the pub open for everyone to enjoy.
1. No drinking or eating at the bar
2. No tabs (except for residents or large tables)
3. Staff will continue to wear masks – if you are able to, please wear a mask when ordering at the bar and be mindful of other customers
TABLE BOOKINGS
You do not need to book a table to come to The Compasses.  We have 14 tables available in the pub and 8 in the marquee to the side of the pub. We only take bookings for groups of 6 or above and these will be staggered to minimise wait times.
COVID SAFETY RECORD
The Compasses has had an excellent Covid safety track record during the pandemic, and we wish to remain a safe place for everyone to come to. Please respect both staff and other customers at all times and help make it a relaxing and enjoyable experience for all. Remember, the way we all behave is directly related to the overall infection rate in our local area and when the infection rate is high, the pub has to close, which is something that none of us want, ever again. We are still living through a pandemic and bear in mind, a lot of the people who may serve you will neither have contracted Covid to date, nor had their first vaccine and may live with vulnerable people at home. We thank you for your cooperation and understanding in helping us keep our staff and customers safe, and the pub open and thriving. Joss x
REAL ALE
Being members of the sixth generation of the Ridley brewing family we pride ourselves on the quality of our real ale.
There is always Bishop Nick Ridley's Rite (a session bitter), a dark ale, two golden ales and one other guest ale. See the blackboard below for our latest offerings.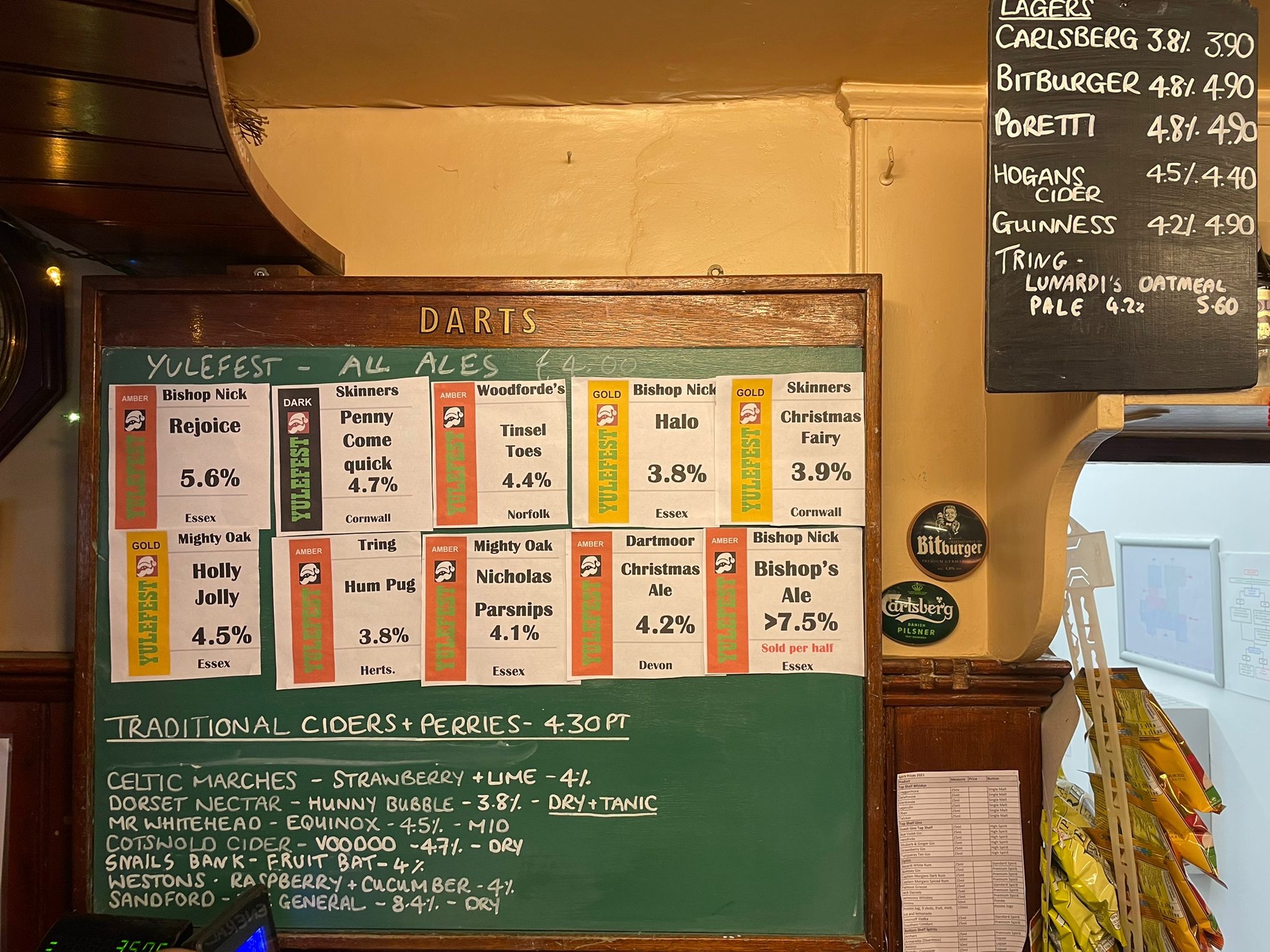 Last Updated 22nd December 2021
Breakfast at The Compasses!
We offer breakfast at The Compasses for everyone, every weekend between 08.30 & 11.00.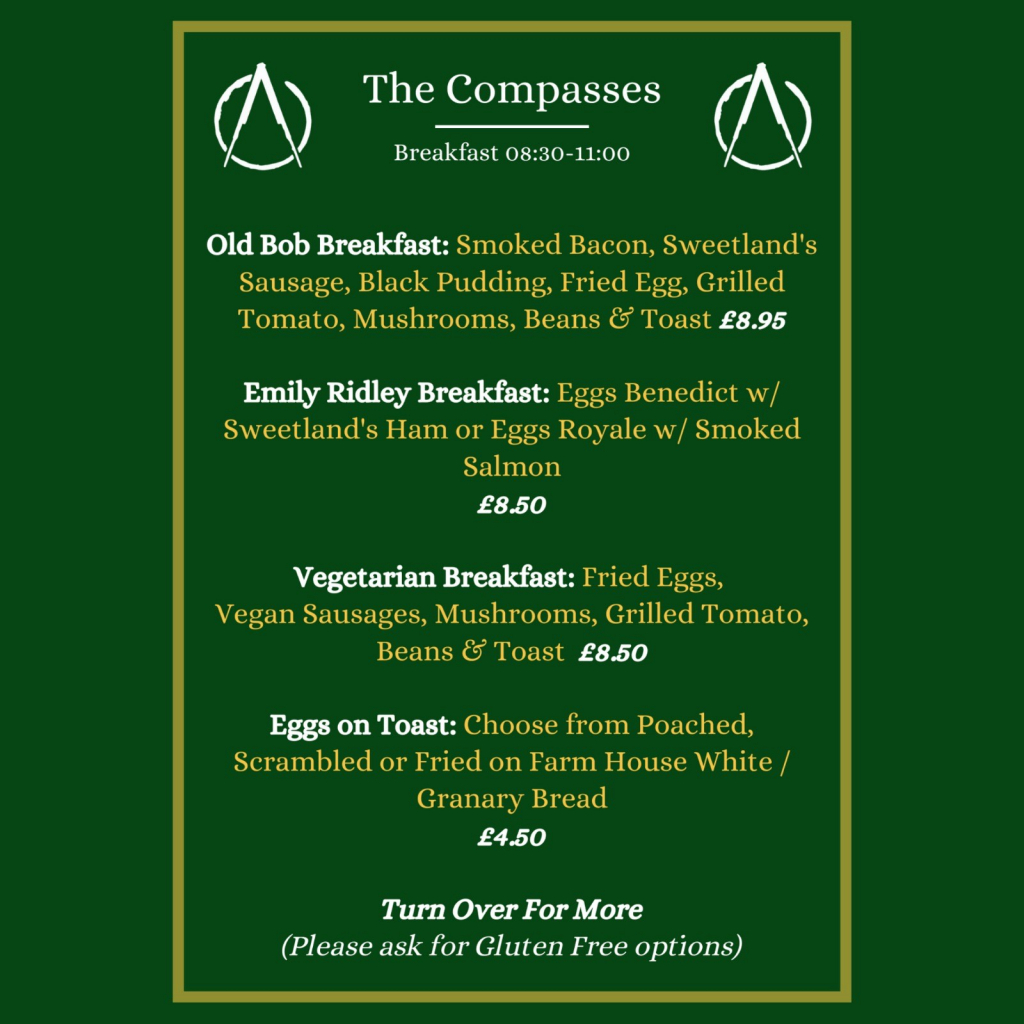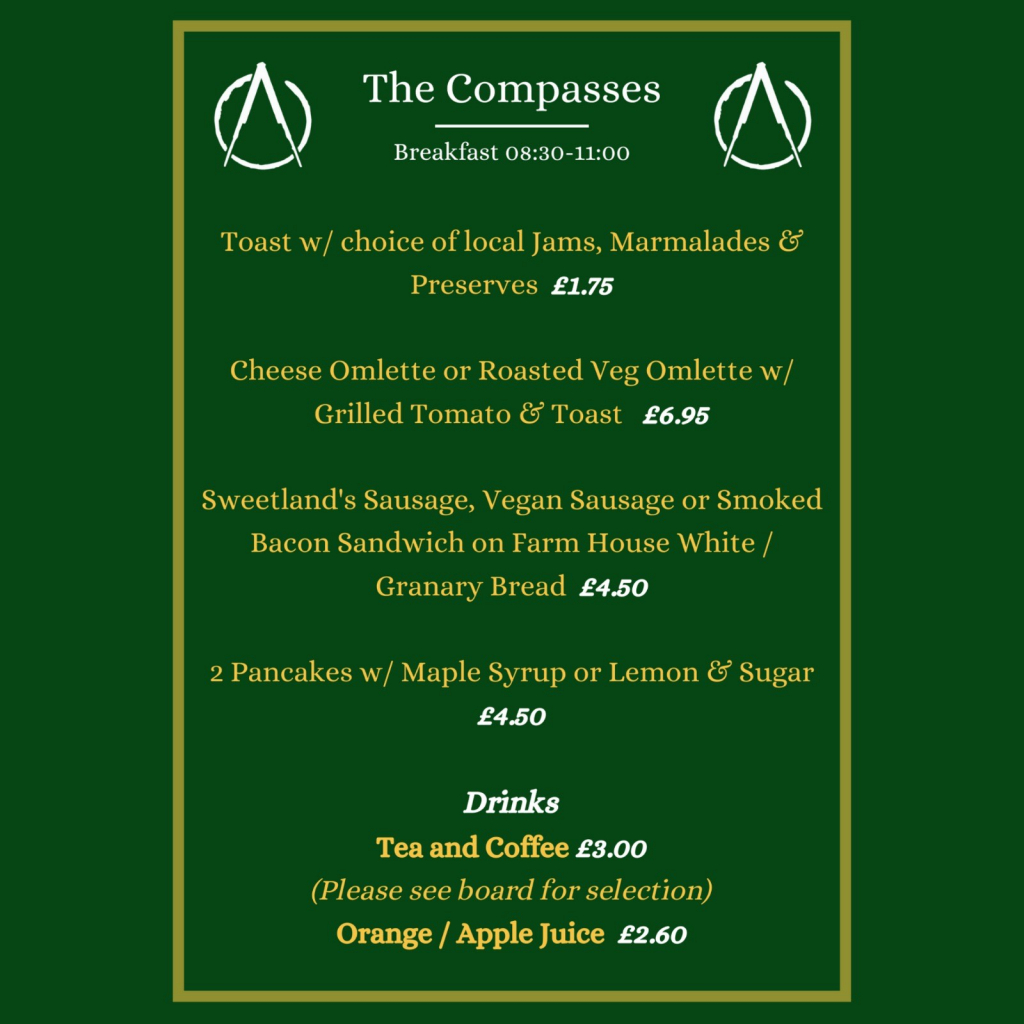 COMPASSES' NOMINATED CHARITY 2021
The Compasses' nominated charity for 2020 is Cancer Research UK.  Joss Ridley, the landlord, has chosen Cancer Research UK as one of his best friends (Dan) has been living with Stage IV bowel cancer for the last two years.  There will be numerous events at the pub, including a weekly quiz night on Thursday evenings whilst we're at The Whitbreads Barn, to help reach our target of £10,000.  Joss is also racing the Transcontinental Bikepacking Race in July in order to help raise awareness.  We would be very grateful if you are able to support us in any way, and if you would like to sponsor Joss on his big bike ride and read about Dan's journey, please click on the link below:
Cancer Research UK Sponsorship Page
If you would like to know more about the Transcontinental Race, please click on the link below:
If you would like to read about some of Joss's adventures in the last couple of years, please click on the link below:
Friends of The Compasses Charity Takeaway Service During Lockdown 1
The Charity Takeaway Service has now finished. We raised an incredible £9,000 over 8 weekends for the following charities:
Essex Young Farmers – our hosts
Cancer Research UK – Joss
Prostate Cancer UK – Paul
St Elizabeth Centre – Lizzy
The Trussell Trust – Audrey
Motor Neurone Disease Association – Courtney
Celia Hammond Animal Trust – Sue
Braintree Youth Project Charity – Gus
Thank you everyone for your support, it was a very special thing to be part of. We will continue to do takeaways from the pub when we reopen on Friday 24th July.
Joss and The Friends of The Compasses Voluntary Group