We pride ourselves on our freshly prepared food which is all sourced from the local butcher (Sweetlands in Great Dunmow), fishmonger and greengrocer. Our specials board changes every week and offers a wide variety of meals to suit every appetite.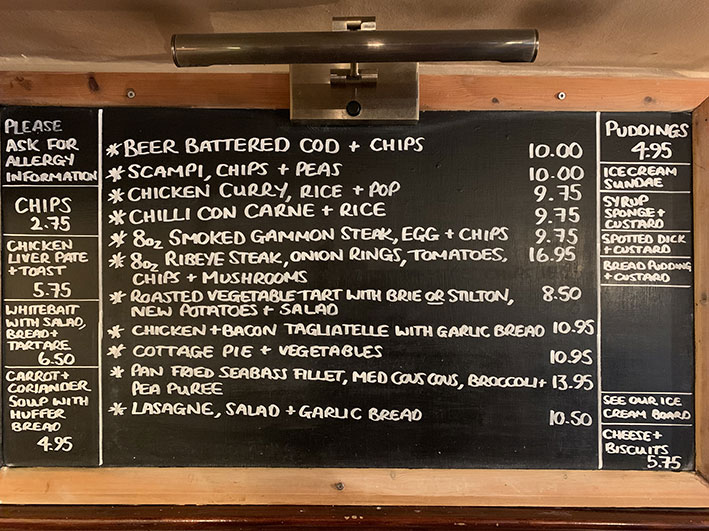 ---
Huffers
Traditionally a Huffer used to be half a loaf of bread that the men working on the fields would take each day, stuffed with a selection of fillings. Keeping to the traditions of the local area The Compasses still offer Huffers. Available in the pub for over 20 years, these triangular baps can be filled with a large variety of fresh local ingredients.
---
Traditional Pub Grub
We also offer a selection of traditional food with seven permanent pub classics:
Beer Battered Cod & Chips
Wholetail Scampi, Chips & Peas
8oz Ribeye with Grilled Tomatoes, Mushrooms, Onion Rings & Chips
Smoked Gammon Steak with Fried Egg & Chips
Chicken Curry, Rice & Poppadom
Chile Con Carne & Rice
Roasted Vegetable Tart with New Potatoes & Salad
To complement these classic dishes, we may have up to five or six other seasonal options which can change daily.
---
Our serving times for food are:
Monday – Thursday 12.00 to 14.30 and 18.30 to 21.30
Friday 12.00 to 14.30 and 18.00 to 21.30
Saturday 12.00 to 16.00 and 18.00 to 21.30
Sunday & Bank Holidays 12.00 to 20.30