The story of how Ridley's brewery came to be established begins with William Ridley, who in 1811 married Maria Dixon, the daughter of a mill owner at Hartford End. Shortly after their marriage the ownership of the mill passed to both William and Maria.
Many of the old pubs were originally bakeries supplied by the Ridley's Mill and in some of the pubs parts of the original ovens are still in place. In 1814, Maria gave birth to Thomas Dixon Ridley and it is after him that T D Ridley & Sons Limited is named.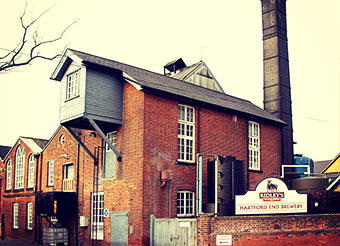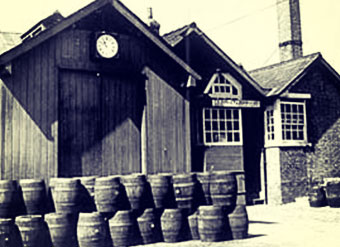 Thomas Dixon took on his father's business, and in 1841 he married Lydia Wells, who came from a brewing family in Chelmsford. Within a year, Thomas Dixon had built his own brewery downstream from the mill on the bank of the River Chelmer, just one mile West of the Compasses Inn.
Ridley's expanded rapidly and by 1882, the year of Thomas Dixon's death, it had established a chain of inns from the Sun at Saffron Walden (their most Northern outlet) to the Wheatsheaf at Rettendon (their most Southern).
Ridley's were famous for supplying beer in wooden casks, which they maintained well into the 1980s. They brewed two cask beers, Ridley's bitter and Ridley's mild and the award winning Old Bob in bottles.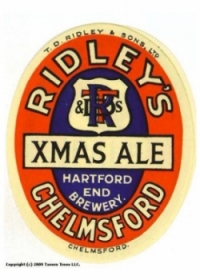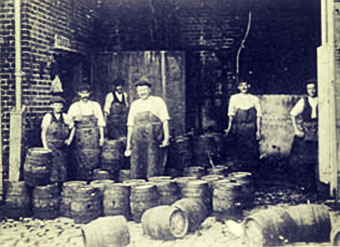 In their later years Ridley's began to brew a range of different real ales, for example Witchfinder Porter: a dark beer with a strong hoppy finish. They also re-badged their bitter as Ridley's IPA.
Sadly, in 2005, the Ridley family sold the brewery and its 73 pubs to Greene King who ceased production at the historic brewery.
As for The Compasses, Greene King lost interest and put the Inn up for sale. Joss Ridley, a direct relative of the original Ridley brewing family, bought it in March 2008, and his brother Nelion started a new brewery - Bishop Nick - in September 2011.
The Compasses has been affectionately known as The Huffer Pub since the late 1980s when Maggie & Michael Clapson brought the huffers with them from The White Hart in Great Saling.